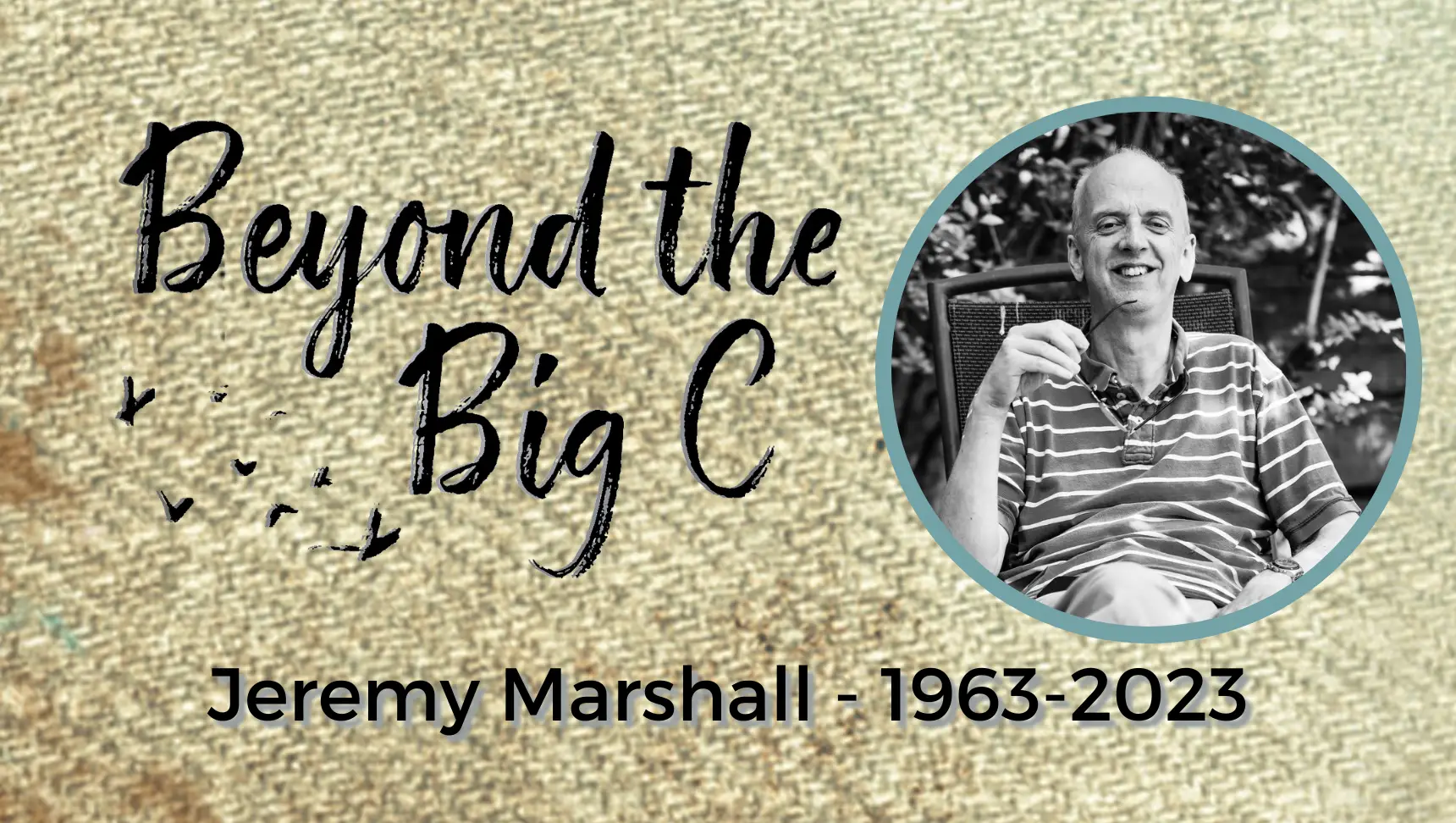 Beyond the Big C - Jeremy Marshall 1963-2023

Please join us in giving thanks for the life of Jeremy Marshall who went home to be with the Lord Sunday 13th August 2023, and pray for his family as they mourn.
In November 2022 Jeremy Marshall agreed to be interviewed for the Life Magazine we produce twice a year talking about his battle with cancer, and the hope he had Beyond the Big C.
On the day of the interview, Jeremy was feeling extremely unwell but, such was his desire to make the most of every opportunity to share about his faith and trust in God, he didn't want to cancel.
After just a short time on Zoom we called a halt to the interview (I'm sure Jeremy would have soldiered on) and agreed that we would use a combination of extracts from his books alongside the few questions we had managed, and this article was the result. We pray that those who read the article in Life Magazine (approx. 50,000 copies), and those who will read this now, will see the Saviour in whom Jeremy placed his trust, finding the same peace he had in life and the same hope he had for eternity.
Jeremy now rests in the arms of his loving Saviour.
Beyond the Big C - Jeremy Marshall, November 2022
This is the story of my journey with cancer – but, as you'll discover if you read on, it is not just about me. I am 59 years old and have had cancer for the last ten years. I want to share my experience in the hope that it helps you. Having incurable cancer seems like a dead end, but I believe there is hope beyond the Big C.
My journey began one day in early September 2012, in the shower. I felt a very small lump on my ribs. Being a typical man, I didn't really do anything much about it for a couple of weeks until my wife Jeanette finally told me firmly, 'Go and see the GP.' The lump was removed and a biopsy done. When I eventually met a specialist at the Royal Marsden, he told me that I had a rare type of sarcoma which is a cancer of the muscle tissue.
That's when I first felt real terror. I felt my knees go weak and a cold hand gripping my heart, however they had caught it early and the prognosis was fairly good. I had an operation to clear the cancerous tissue and then a course of radiotherapy.  Apart from a few weeks to recover from the operation, I carried on working and life gradually returned back to normal. 
Then one hot Saturday at the end of May 2015 as I adjusted the collar on my shirt, I felt a really large lump on my left collar bone. I knew immediately what it was. The cancer was back. This time there were five large tumours in various places throughout my body and they couldn't operate on them. It was not the same cancer as before but a completely different type. In fact, I was told my cancer was incurable and that I probably had 18 months to live. I am not ashamed to say that I burst into tears. Life changed forever.
I have been through 43 sessions of chemotherapy, 15 surgeries and 2 courses of radiotherapy so far. This last year has been by far the toughest of the 10 years I have had with cancer. I've been through a lot of pain and treatment, but I thank God I'm still alive. I want to be very open that I am afraid, sometimes very afraid. This is despite having a strong Christian faith.  In particular, I fear the process leading up to death. 
What have I found to be the answer to my fear?  Fear not just of cancer but, most of all, of death. I don't see an answer to my fear if I look at the world around me. Nor do I find one if I look within. The answer to my fear is faith in Jesus.
What God has been trying to teach me, I believe, is to trust Him. In depths of despair with cancer, when I cried to God to help, I found that He answered me. Not to cure me – although He could do that if He wants – but to reassure me that He is there, that He is in control and that He is working His purposes out.
'Why me?' is a question that many of us ask and asking God questions is very much encouraged in the Bible. God meets us in our doubts and perplexities. He can cope with our emotions. That's why trusting God is the key quality that I need when faced with fear. A very good question which is very linked to 'Why me?' is 'Why does God allow such suffering?' This is a profound and very painful question and I don't know the answer.
But this I do know: that God doesn't leave us in the total mess we are in but cares enough about our suffering and brokenness to become human. God's answer to suffering and pain is not theological truths, useful though they can be, but the humanity, death and resurrection of Jesus Christ.
Not many of us will doubt the historical existence of Jesus Christ. No serious historian would – there is too much evidence. Not many of us will question that Jesus died the death of a common criminal on a basic, wooden cross in first-century Palestine and that His dead body was put into a sealed stone tomb. Most of us will be familiar with the claim that Jesus came back to life several days later – a claim not of revival from unconsciousness but of genuine resurrection.  One day utterly dead; three days later, utterly alive. Could that possibly be true?  If the resurrection is true, it shows us that life after death is possible. Jesus demonstrates that He is stronger than our greatest enemy: death. If that is true – and I believe it is utterly true – that is certainly wonderful news. 
Because of Jesus' resurrection, those who trust Christ have nothing to fear for our bodies in death, for they will be changed: we will rise again, wonderfully remade in the image of the Lord. All of the pains and suffering of life will be gone.
 When I think of my life before I had cancer (and I was a Christian then), I can now see that I was focusing much of my thoughts, energies and time on things that ultimately don't matter. Nobody on their deathbed says, 'I wish I had spent more time in the office.'
My prognosis of 18 months concentrated my mind wonderfully. But whether it's a fortnight, 18 months or 40 years, death is waiting for us all. But our biggest problem is not death – but the fact that our relationship with God is broken, damaged beyond human repair by all the things we have done wrong. We need to get back to God. 
The message streaming from the cross is the offer from God of forgiveness for the evil that each one of us has within us – what the Bible calls our 'sin'.
 Coming to faith in Jesus is not about being good, or being religious, or understanding theological systems. It's about realising that we need help, that we need to meet God face to face, know Him personally, and have a relationship with Him. Who may come to Jesus? Anyone. Anyone at all.  It doesn't matter if you are the most moral person who ever lived – or the worst. It doesn't matter if you are 'very religious' or 'very unreligious'.  The offer of treatment is exactly the same to all.
Perhaps the most famous chapter in the Bible is Psalm 23 and the line, 'Even though I walk through the valley of the shadow of death, I will fear no evil, for you are with me.' God doesn't offer a bypass around that deathly valley. But He does say that when we go through it – and we all must go through it sooner or later – He will be with us.
I tell you then with great seriousness that there is hope in the face of cancer and death. You really can have a Saviour for your life and know a 'peace which passes all understanding' – now and forever.
Despite many fears along the way, my predominant emotion is one of amazing peace and this is where I leave you: resting in the arms of my loving Saviour. 'Come,' He says to you too, 'believe in Me.'
Today, the voice of Jesus, which has power over death itself, invites us – indeed implores us – to come to Him. Now is the time to receive the free offer which the voice of Jesus lays before us – the offer of eternal life and a living friendship with God.
Jeremy's Books
Coming November 2023 Meeting Jesus
Share the Life Magazine