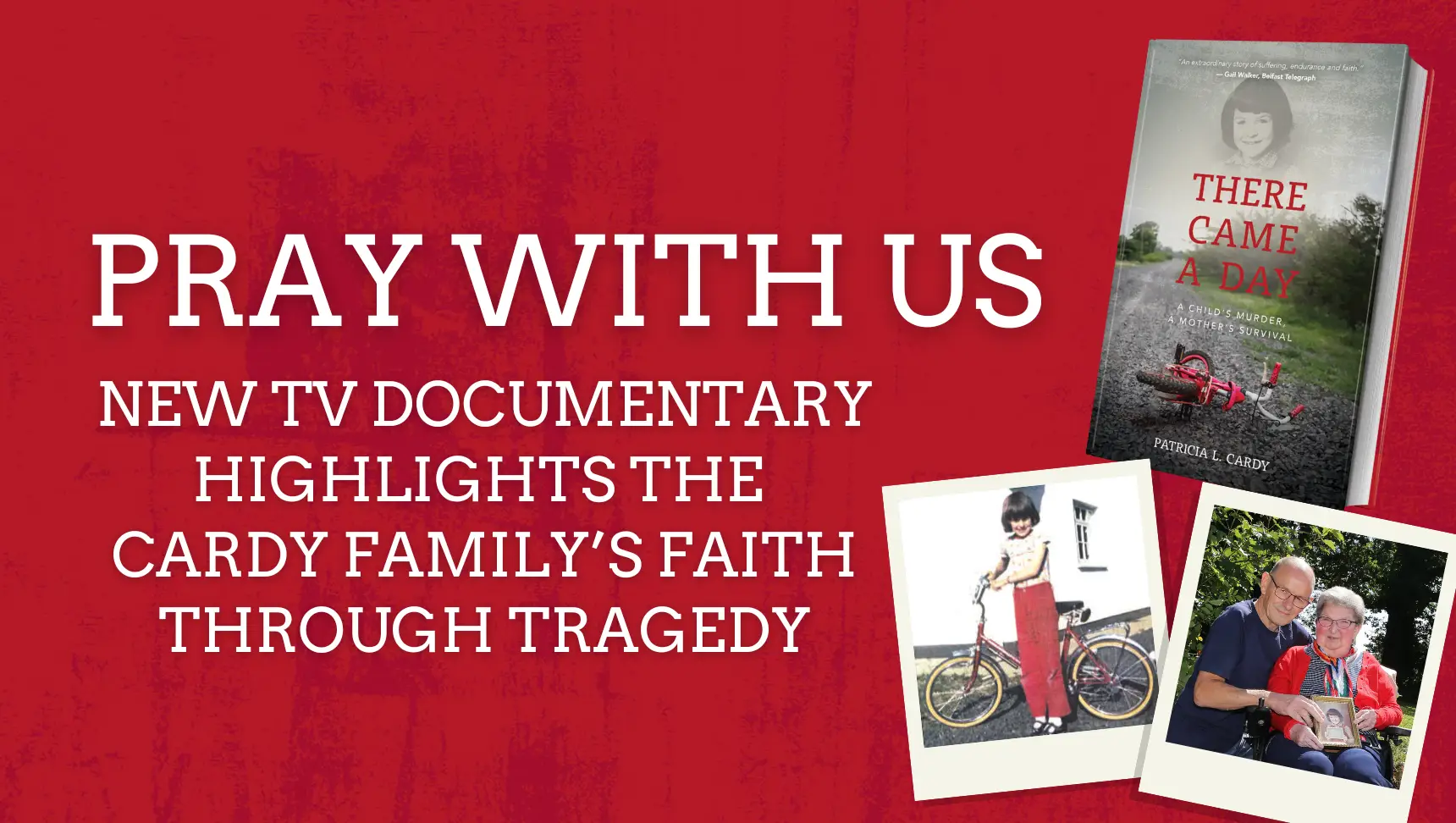 Pray with us - New TV documentary highlights the Cardy family's faith through tragedy
Saturday 12th August 2023 marks 42 years since the abduction and murder of Jennifer Cardy, a nine-year-old school girl from Ballinderry, County Antrim.
Jennifer's late mother, Pat Cardy, wrote her biography in 2021 charting the 30 years it took for the serial killer, Robert Black, to be brought to justice and the impact that Jennifer's death, and the years of waiting for answers had on their family.
We were privileged to publish Pat's biography There Came a Day: A Child's Murder, A Mother's Survival, enabling their story of hope and comfort to be shared. Pat's faith in Jesus and the journey that Jennifer's dad, Andy, had in coming to faith, are a strong witness to Christ's power and upholding peace in terrible circumstances. Many who have read the book have been challenged and encouraged by Pat and Andy's trust in God.
A recent two-part documentary following the crimes of Jennifer's killer on Channel 5 has brought the case back to public attention, and we anticipate many who don't yet know the Lord will be interested in reading Pat's biography.
Pat's desire was that each person who read the book would know the reality of God in their lives, no matter their circumstances.
Would you please pray with us for:
-       Jennifer's family as the anniversary of her death approaches
-       The families of the other victims as the documentary airs
-       Those who don't know Jesus, but who may read of the faith of Pat and Andy and the comfort they found in God, through even the darkest days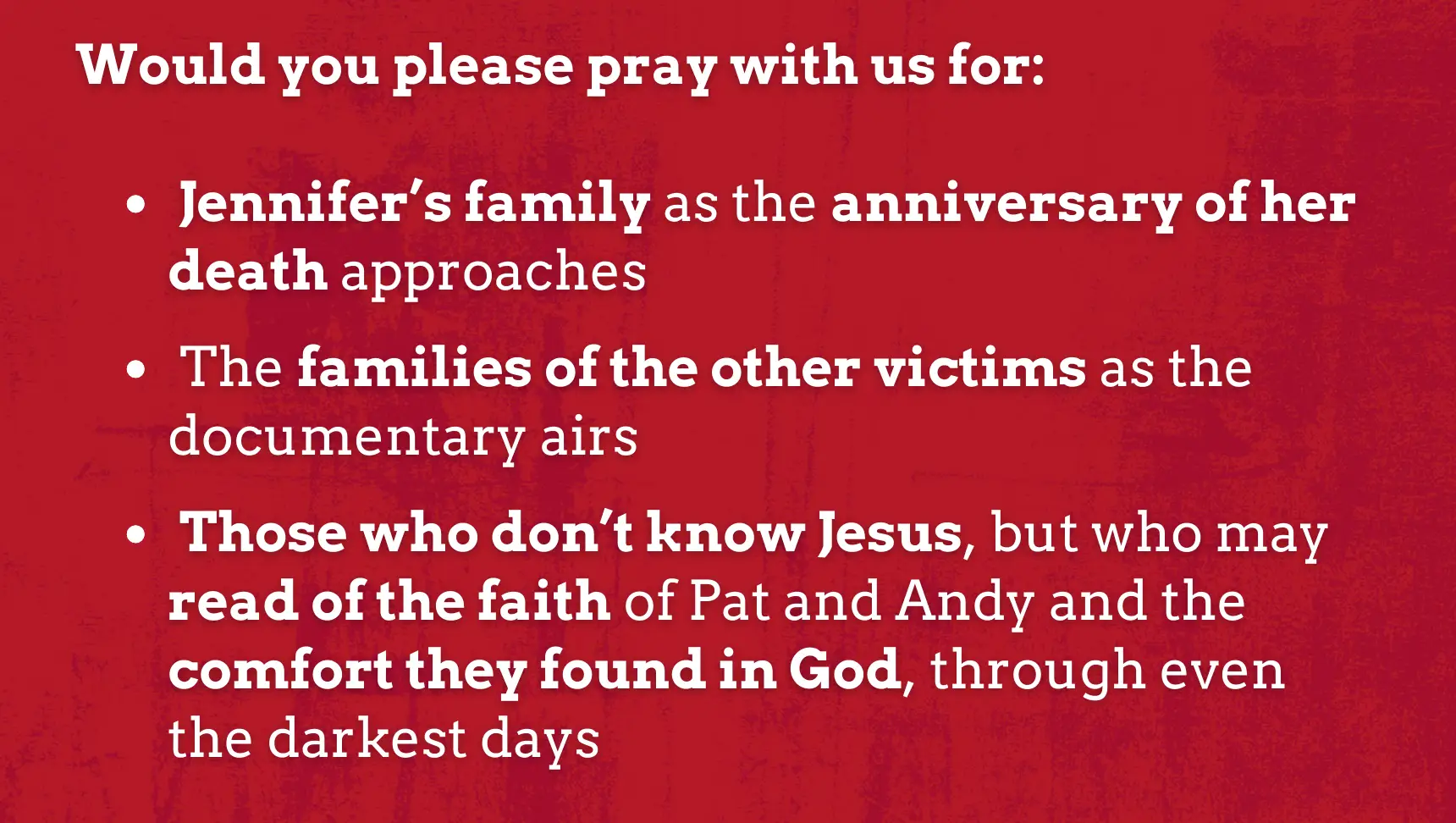 Following Pat's death in early 2022 Andy continues to work tirelessly to bring the gospel of Jesus to people through sharing their experience.
Andy wasn't a Christian at the time of Jennifers death, but years later was converted. He chatted with Roger Carswell in 2021 about his experience, part of the conversation is shared below:
RC: Andy, tell us about your family.
AC: Pat and I were married in 1968, when we were 18 and 19. Our first child came along the next year, Mark. Our second child, David, died at birth, and our third child was Jennifer, and then Philip came along. Pat's health broke down after that, and she was advised never to have any more children, and so she was sterilised. But, one year after the sterilisation, our daughter Victoria was on the way. Victoria was a gift from the Lord. When Jennifer was taken Mark was 13, Philip was six and Victoria was eight months old.
RC: Can you tell us about Jennifer?
AC: Jennifer was beautiful. She was just a lovely little girl. Fathers love their daughters so much, and we had such a lovely relationship. She was saved and came to know the Lord when she was seven, and she died when she was nine. She would tell people "I'm saved and I'm going to heaven"; little did she know she was going there quickly.
RC: What were the circumstances around her disappearance?
AC: Not long before she was taken, I bought her a new bicycle. Out in the country youngsters in those days travelled by bike everywhere. This particular day, August 12th 1981, she fed her sister Victoria and asked to go and see her friend on her bike. My wife, Pat, set her watch and told Jennifer to be back by four o'clock. I had come home at about six o'clock, and Pat was stood outside looking worried and explained that Jennifer hadn't come home, and Pat hadn't been able to go and look for her as her car had a puncture.
When we got to the house that Jennifer had said she was going to, they said Jennifer had never arrived. At that stage I wasn't particularly worried, but we went around for an hour to different houses and farms looking for her. There were hundreds of people looking for her, and very quickly the police and army became involved.
About midnight they found her bicycle about a mile from where we lived. It had been thrown over the hedge, but the stand was down. 
RC: How much longer did it take to eventually find her body?
AC: It took six days. There's no vocabulary that I have to put the agony into words: to come into her bedroom that is now empty, that a child used to sleep in, to walk through the house with all the toys that she played with, her hairbrush, her toothbrush, but she wasn't there. There's no way to explain how that feels. It was just a total nightmare.
RC: How did you react to the news she had been found?
AC: It's a strange thing looking back on it. It was in some way a relief. I think of the McCann family who never found a body, never found the end. It was awful to know that she'd now passed away, but at least we'd got an answer. We weren't searching. We didn't have to live in the agony any longer wondering what she was going through. I think we'd realised during the week that we wouldn't find her alive.
RC: Where you praying during those days?
AC: I don't recall, but I do remember I had a huge trust in the Lord, although I wouldn't have called myself a Christian.
RC: Did you feel bitter towards God?
AC: No, I never did.
RC: How was it eventually that you came to faith in Christ?
AC: I knew that the Lord had spoken to me in a big way with the loss of Jennifer so then, as Victoria grew up, she asked me to come to church and I started to worry about my soul. I went back to church every Sunday night, and on the last night of a mission, I asked the Lord to save me.
RC: How did that happen?
AC: When I got home I let everyone go to bed and I was on my own in the living room and I just said to the Lord, "I want to be saved, I want my sins to be forgiven, I want you to take hold of my life." There was still doubt – even that night as I went up the stairs Satan was telling me I wasn't saved.  So I said to God as I went to bed that night, "Tomorrow morning, I want to go down the stairs and I want a verse to tell me I'm saved." I went down the stairs next morning, and Pat's Bible was sitting on top of the worktop in the kitchen. I opened the Bible and the very first verse I read was "Praise ye the Lord, sing unto the Lord for he has delivered the soul of the poor from the hands of the evil doer."* After that I never looked back. I'm 72 years of age now, and I was 44 then, and I've never doubted.
RC: At this stage in your life you had lost a daughter, and the one responsible wasn't found. Was this a weight, or anxiety, that he was still out there?
AC: No, even though they hadn't caught the murderer of Jennifer, I knew one day someone would be caught, so I had a peace until the early 90s when he was caught.
RC: How was the killer eventually caught?
AC: In July 1990, a man working in his garden in a village on the Scottish borders witnessed the abduction of a little girl.  He ran to the village police station, and there were two policemen on duty, and he told them what he'd seen. An hour later as the police were searching, the van came back down the road, so they stopped the van and while one of them spoke to the delivery driver, Robert Black, the other one got into the van and underneath some rags was a sleeping bag zipped to the top. When he unzipped it, there was a little girl inside. Her mouth was taped and her hands and feet were taped together. The awful thing about the story is that the policeman who found the little girl, it was actually his daughter. He rescued his own daughter.
RC: So Robert Black was caught red–handed as far as this particular girl was concerned, but how did they tie him to Jennifer's murder?
AC: They started to look into where he delivered as part of his driving job. All over England, Scotland, Wales, all of Ireland, even France. They started to realise little girls had gone missing in those areas, and he was convicted of three murders in Scotland and England. Then they had to set about proving he was also there on the day of Jennifer's abduction, so they went into the company archives. He bought fuel for his vehicle with a credit card, and the receipts told exactly where he was and the days he was there. On the day of Jennifer's abduction, he was in the area. We think she had stopped to put on her cardigan when Robert Black came down the road and he was an opportunist who grabbed her and threw her bike over the hedge. We knew from the mid 90s that he had murdered our daughter, but it was 2011 before it would actually come to court.
RC: Did you go to the trial?
AC: Yes, Pat and I had originally agreed that we would never go to the trial, but the Lord spoke to both of us, on the same day, with the same passage of scripture, that we should be there. I can't remember what it was, but I prayed about it, and we eventually said we would go.
We had to go to his arraignment. To have to look at the man who murdered your daughter is not easy, and I had, and Pat had, to work very hard at forgiveness. Because whether you and I like it or not, this man had a soul, and even a man who is in deep, sinful actions, could be saved. We had to pray and ask the Lord to help us to forgive him. We hate what he did, but we loved his soul. We prayed that he would know the Lord as his Saviour, because the awfulness of it is that, if he hasn't, he will now be in hell.
RC: How has what happened defined, or influenced your life?
AC: We decided that Robert Black, although he had taken my daughter's life, wouldn't take my life, or those of my family. There are times it breaks my heart – I wouldn't be human if it didn't – but I know that Jennifer is with the Lord, and I know that I'll be with the Lord, and her, at some stage, and see her again. Pat and I will work tirelessly to bring the gospel of Jesus to people through our story. You wouldn't believe the number of people who I've met who have come to know Jesus through our story.
RC: Pat has written the whole story in a book, There Came a Day: A Child's Murder, A Mothers' Survival. Why have you done this now 40 years on?
AC: Pat had wanted to put it out in a book for some years. She wrote it wanting each person who read it to know that there is a reality of God in our lives, no matter what a day may throw at you. It took about four years for her to write it.
RC: Do you ever think 'If only'…?
AC: I could have tortured myself for buying the bike. Pat said not to get the bike and that I should wait for Christmas, but I said I'd like her to be able to cycle to her friend's house. Now I could beat myself up, and say I made that decision, I bought her the bike, but you can't live like that. It is what it is, and in the end I just had to submit to the sovereignty of God, and that we would bring something good out of it, which we have done. I never look at life "what if…?", We want to live positively and look forward.
Pat Cardy's book, There Came a Day: A Child's Murder, A Mother's Survival is available now.
*Jeremiah 20:13